Should We Hire
George Bush, Jr., For President
Or, Are There Permanent Residual Effects?
---
Recommended For Reading As Initial Background
Should a person who has used cocaine perhaps once, but has a couple decade record of alcoholism, and/or other drug abuse, until age 40, or so, be hired? Should a person convicted at age 30 for drunk driving (DUI) be hired? A person continuing drinking until age 40? Can such a person really pass personnel hiring tests? Should such a person really be applying for a high stress job?
A person convicted for drunk driving at age 30, that's not a 'youthful indiscretion.' That shows a long term pattern of behavior, typically from teens. And continuing to drink another 10 years, that's a slow learner, not a person quickly rehabilitated. A presidential term is only four years - there isn't 10 years to learn something!
Should we hire a candidate with a criminal record? hire the first President with such a record?
And choosing a running mate (Richard [Dick] Cheney), who has been arrested twice for drunk driving? Is that an example of poor judgment?
Some people say that the issue is privacy. Suppose you are in the hiring business. What is the personnel/human resources answer?
Pursuant to the legal concept of "negligent hiring," and the legal duty to avoid it, human resources professionals in the hiring business do not seek merely absence of negative data on an applicant. They also seek affirmative positive statements. This is a good human resources management principle. See William J. Connelly, "How To Navigate The River Of Legal Liability When Hiring," Personnel Journal, Vol 63, pp  32-46, especially p 38 (March 1986). And it is the law.
Federal law 29 USC § 706.(7)(B) precludes hiring drug abusers. This is particularly true with persons suffering from a mental disorder listed in the Diagnostic and Statistical Manual of Mental Disorders, 3rd - 4th eds (DSM-III and SM-IV); and the International Classification of Disease, 9th ed. (ICD-9).
When you are making a hiring decision, it does not matter that a questionable behavior happened years, decades ago. Let's say you are hiring someone for a position, involving a lot of running. There's an applicant who has no legs, walks slowly on crutches, from an incident 40 years ago! And he has never had any but a sedentary job since. Can you notice the "negative" (can't do the running function) REGARDLESS of the decades that have gone by! Likewise, here too, the time factor is irrelevant.
Nay, early events can foreshadow future events. For example, note that "Deliberate cruelty to animals has been demonstrated to be a predictive forerunner to violence against humans [in adults]," says Nancy B. Miner, "Warning Signals from Disturbed Youth," 129 USA Today Magazine (Issue # 2664) p 34 (September 2000). There is a "powerful connection between cruelty to animals and human violence [as it is] a well-documented phenomenon." "In 1964, anthropologist Margaret Mead warned that 'the most dangerous thing that can happen to a child is to kill or torture an animal and get away with it.' Yet, more than three decades later, society continues to trivialize what should be regarded as a clear indication of potentially serious trouble in the future."
This data is significant view of the allegation cited by Dr. Justin Frank, M.D., Bush on the Couch (2004), that young Bush had a record of "using firecrackers to explode frogs." Dr. Frank deems Bush "sadistic" pursuant to Bush's reported behavior record. See also
Paul Krugman, in "King of Pain: Why is Mr. Bush so determined to engage in torture? (New York Times, 18 September 2006), and
Paul Craig Roberts, "War Criminal at Bay" (18 September 2006) (Bush's desperate effort to legalize torture).
Also note psychiatric data, e.g.,
by Abraham A. Brill, Ph.B., M.D. (1874-1948), 3 Internat'l J of Psychoanalysis (#4) 430-444 at 437-8 (Dec 1922) (has example of smoker's impaired impulse control: having the "sadistic life quite unimpeded," "liked blood," and the "powerless" aspects of the victim) (See U.S. slavery examples: axe murder, burning, torture, whipping), and
in the Diagnostic and Statistical Manual of Mental Disorders, 4th ed. (DSM IV) material on "antisocial personality disorder . . . a pattern of disregard for and violation of the rights of others."
by Maurice J. Barry, Jr., M.D., in "Psychologic Aspects of Smoking," 35 Staff Meetings of Mayo Clinic (#13) 386 (22 June 1960), p 387, citing "rebellion" and "a considerable feeling of defiance for authority and the individuating thrill of setting aside some rule," typical tobacco addict symptoms characteristic of the typical lawless druggie attitude typical of tobacco druggies.
by a number of other analysts on psychopathology.

If you have not already read the above-recommended reading, please do so. Remember, in voting, you are making a "hiring" type decision. You should be informed as to what genuine hiring professionals know.

See also Paul Levy, The Madness of George W. Bush: A Reflection of Our Collective Psychosis (AuthorHouse, 2007).

Minimum Five Sites Recommended For Reading

After you have read that data, you'll have the answer!

You may even develop an awareness of why the father, George Bush, Sr., saw nothing wrong in 1989 with hiring a person like drinker and womanizer Texas Senator John Tower for the vital position of Secretary of Defense! When alcoholism is normal in one's family, ongoing among at least one son, no wonder in 1989, such a person would see no problem with hiring an alcoholic Senator! This even though abused women had complained, and even though the Soviets could foreseeably blackmail with respect to his behavior. Fortunately, sensible people, non-alcoholics, objected, and Tower did NOT become Secretary of Defense. There is no record that son George, Jr., thought appointing a drunk Secretary of Defense a bad idea!!

"Heavy drinking dulls the mind even after you sober up, new study finds," says Randy Dotinga, HealthDay, The Detroit News, 24 November 2004, p 5H. The study shows that alcohol use leading to "hangovers contribute to memory problems and delayed reaction time," thus "even after blookd-alcohol levels had returned to zero, study participants still had trouble with basic tasks." Source: Aaron White, Asst. Research Prof. of Psychology, Duke University, Alcohol and Alcoholism (November/December 2004). "Alcohol simply isn't good for the body." Prof. White says of alcohol, "It's a poison, and it just happens to be a poison that gives us a nice buzz. But you pay for it. The body must devote energy to processing and removing it."Says Dotinga, "Even when no alcohol is left in the body, people are plagued by after-effects such as fatigue, nausea, and dehydration. 'All of that is going to make it harder for you to pay attention, to feel like learning and stay awake,' he adds."

Remember, you are not just hiring some run of the mill employee! You are hiring a President. You are hiring him for years to come. How much will he be deteriorating? When hiring, think like a hiring professional, think down the time line, years ahead. You don't want someone who'll be hiring people for key jobs who are themselves drunks or druggies! You don't want to be hiring someone who thinks that alcoholism is acceptable for decades in one's life!

Moreover, note that tobacco is killing 26,000 Texans, according to Robert Dreyfuss, "George W. Bush: Calling for Philip Morris," The Nation (8 Nov 1999). George Bush took an oath to enforce the laws that prevent such a holocaust of tobacco murder. But he is not doing so, thus showing a willingness to lie. Or is it something worse?

Remember, hiring professionals do not seek merely absence of negative data on an applicant.  They also seek affirmative positive statements.  This is a good human resources management principle.  Do get and read Connelly's, "How To Navigate The River Of Legal Liability When Hiring," 63 Personnel J 32-46, especially p 38 (March 1986), or other like material.

Bush's condition is attaining some notice. See "DUI, Drunk Driving Arrest Consequences," by Rebecca Cooper (3 Nov 2000). And note the subsequent Warren "Soundoff" description of George Bush as "his own embarrassed, paranoid, delusional self."—"Self-delusion," Macomb Daily (Tuesday, 25 March 2003), p 5A. See also the "Further Reading" list below.
---
"You can fool some of the people all of the time,
and those are the ones you want to concentrate on."

– George W. Bush,
joking? at a Gridiron Club dinner,
Washington, D.C., March 2001.
---
Bear in mind, alcoholism does not happen in vacuum. The norm is that an alcoholic has a prior/concurrent record as a smoker, e.g., with Bush, a cigar smoker.
"When we take a thorough drug history, we are forced to admit that nicotine—not alcohol or cannabis—is the drug of entry for most young people. See Emanuel Peluso and Lucy Silvay Peluso, "The Challenge of Treating Teenagers," 9 Alcoholism & Addiction (2) 21 (Dec 1988).
There are people who think using tobacco is minor. Not so! Here is data you likely never saw before. At the toxic chemicals site, which I hope you read, you learned that tobacco has a record as an hallucinogen. Repeat, it has a record as an hallucinogen. Doctors know it. You should too. Tobacco is not the mild drug you heard from the media, the media paid daily (with ads) to suppress the heavy-duty truth about it.
"Native use of tobacco parallels that of other hallucinogenic substances . . . The amounts of harman and norharman in cigarette smoke are about 10-20 mcg. per cigarette. This is about 40 to 100 times greater than that found in the tobacco leaf, indicating that pyrosynthesis occurs in the leaves during the burning . . . . harmine in relatively small doses crosses the blood-brain barrier and causes changes in the neural transmission in the visual system."—Oscar Janiger, M.D., and Marlene Dobkin De Rios, M.D., "Nicotiana an Hallucinogen?," 30 Econ Bot 149-151 (April-June 1976).
As a voter, YOU are functioning as a hiring official. You must think like one. Is a record as an alcoholic, smoker, hallucinogen-user, and/or drug abuser, "negative" or "positive"? Is a record as doing behavior listed as a mental disorder a "negative" one, or "positive"? Remember, smoking has been so listed in all editions of the pertinent above-cited medical references (DSM-III, DSM-IV, ICD-9) since 1980. Ask your doctor to look at the book (he or his staff typically own and regularly use at least one of the two references). I know you've never heard of this, remember, the media censor medical news on this subject.
"'I don't remember all the students in detail unless I'm prompted by something,' [Professor] Tsurumi said in a telephone interview . . . . 'But I always remember two types of students. One is the very excellent student, the type as a professor you feel honored to be working with. Someone with strong social values, compassion and intellect—the very rare person you never forget. And then you remember students like George Bush, those who are totally the opposite,'" says Mary Jacoby in the article, "Dunce: His former Harvard Business School professor recalls George W. Bush [fall of 1973 and spring of 1974] not just as a terrible student but as spoiled, loutish and a pathological liar" (Salon, 16 September 2004). "'He showed pathological lying habits and was in denial when challenged on his prejudices and biases. He would even deny saying something he just said 30 seconds ago. He was famous for that. Students jumped on him; I challenged him.' When asked to explain a particular comment, said Tsurumi, Bush would respond, 'Oh, I never said that.'"
The body (of which the brain is a part) seeks homeostasis. In the face of the onslaught of drugs, brain receptors shut down. (In the face of trouble outside, we too shut something, for example, doors). Fortunately, we can undo the shutting of doors, but the brain tragically cannot undo the damage. The toxic chemicals, e.g., carbon monoxide, kill portions of the brain. Example: Smokers have more brain hemmorhages, more strokes.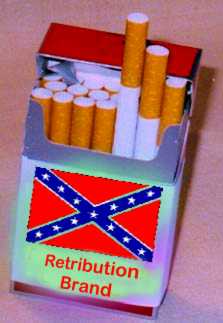 A century ago, in 1914, Thomas Alva Edison was saying in summary form what doctors know about cigarettes and the brain, the damage is "permanent and uncontrollable." Click here to see Edison's 1914 statement to that effect. Note his conclusion, don't hire them!
A U.S. Department of Health, Education and Welfare, National Institute on Drug Abuse (NIDA), book, Research on Smoking Behavior, Research Monograph 17, Publication ADM 78-581, p 5 (December 1977), by colleagues of the Surgeon General, said that if laymen knew this about smoking (it's a mental disorder, not a habit), that knowledge "should have a profound impact upon the reputation of this behavior." Meaning, a NEGATIVE!!! (Again, the media censored this news.)
Cigarettes' toxic chemicals impair impulse and ethical controls, i.e., cause abulia (addiction). This involves impairment of ethical controls, substantially lessened concern for one's fellow man. There is no such thing as a smoking, alcohol, drug-using "compassionate conservative." The druggie process has killed the brain cells involved in such ethical aspects.
As long as 1944, Dr. Frank L. Wood cites a 100% factor, "all of those who became alcohol addicts, in the experience of this writer [Wood], were first tobacco addicts." See Frank L. Wood, M.D., What You Should Know About Tobacco (Wichita, KS: The Wichita Publishing Co, 1944), p 143.
Analysts have also found that drug dependence does not suddenly occur overnight! A nonsmoker suddenly wants to use cocaine! Not so. Drug dependence normally develops in stages, over a period of years. People who do not use the starter drug, rarely proceed to later drugs in the sequence. Tobacco is an addiction, not a habit, see Ronald M. Davis, M.D., (a health authority during Michigan Republican Governor John Engler's first term), "The Language of Nicotine Addiction: Purging the Word 'Habit' From Our Lexicon," 1 Tobacco Control 163-164 (1992), opposing the disinformation that smoking is merely a habit.
"Tobacco . . . holds a special status as a 'gateway' substance in the development of other drug dependencies not only because tobacco use reliably precedes use of illicit drugs, but also because use of tobacco is more likely to escalate to dependent pattens of use of most other dependence producing drugs. . . . These observations have led growing numbers of researchers and policy makers concerned with illicit drug use to consider the role of tobacco in programs aimed at preventing other forms of drug abuse." Jack E. Henningfield, Richard Clayton, and William Pollin, "Involvement of Tobacco in Alcoholism and Illicit Drug Use," 85 British J of Addiction 279-292, especially p 283 (1990).
Moreover, "tobacco use is associated with the initiation of use of other addicting substances, and . . . increasing levels of tobacco use are associated with increasing levels of use of other psychoactive substances. Furthermore, factors affecting initiation, abstinence, and relapse to the use of tobacco, alcohol, and opioids are similar in nature. In addition, there are similarities in the addictive processes underlying the sue of these substances." Jack E. Henningfield, Richard Clayton, and William Pollin, "Involvement of Tobacco in Alcoholism and Illicit Drug Use," 85 British J of Addiction 279-292, especially p 279 (1990).
"Goode demonstrated that college students who smoke were more likely to have used every kind of abusable substance, both legal and illegal, than were their nonsmoking classmaters." [Goode, E, "Cigarette smoking and drug use on a college campus," 7 Int'l J Addict 133-140 (1972).] The National Institute on Drug Abuse reports that daily use of marijuana is 20 times higher among high school seniors who smoke tobacco, and the daily use of other illicit drugs is 13 times higher among smokers." [Fishburne PM, Abelson HI, Cisin I, "National Survey on Drug Abuse: Main Findings, 1979" (1980)], cited in DiFranza, JR, Guerrera MP, "Alcoholism and Smoking," 51 Journal of Studies on Alcohol (2) 130-135 (1990).
"The psychopath in a position of supreme power is almost a common-place."—Robert Payne (1911-1983), The Life and Death of Adolf Hitler (New York: Praeger Pub, 1975), p xi.
Due to this "common-place" (tobacco use being epidemic), professionals and people who are sincere about wanting to prevent drug abuse, recognize that intervention must needs be occurring at the earliest stage—cigarettes. (Think about it; they wouldn't be citing issues of intervention at early stages, if stages were not something that is occurring!) See, e.g., DHEW National Institute on Drug Abuse (NIDA), Research on Smoking Behavior, Research Monograph 17, Publication ADM 78-581, p vi (Dec 1977); Robert DuPont, Teen Drug Use, 102 J Pediatrics 1003-1007 (June 1983); Raymond Fleming, Howard Levanthal, Kathleen Glynn, and Joahn Ershler, "The Role of Cigarettes in The Initiation And Progression Of Early Substance Use," 14 Addictive Behaviors (3) 261-272 (1989); and DHHS, Preventing Tobacco Use Among Young People: Surgeon General Report (1994). Page 10 supports law enforcement, saying, "Illegal sales of tobacco products are common."
The bottom line is that tobacco is an "extremely harmful drug." See Frank L. Wood, M.D., What You Should Know About Tobacco (Wichita, KS: The Wichita Publishing Co, 1944), p 5. Tobacco has long been known to cause brain damage, and thus, impaired reasoning, including violent impulse tendencies.
Tobacco use by a parent (here, by Bush's mother, Barbara Bush), notoriously leads to birth defects in the children. See birth defects site for background.
Note other pertinent symptoms, e.g., "Expressive aphasia—Loss of ability to speak required words . . . Formulation aphasia—Loss of ability to formulate sentences [and] Paraphasia—Garbled speech, marked by inappropriate word use, transposed sounds, and ungrammatical sentences." Note George Bush's symptoms of this type. And see video examples.
In view of tobacco's impairment of ethical controls, and its being altered for revenge against America, such a person cannot be a "compassionate" anything. Smokers foreseeably, without compunction, daily do all sorts of harm to themselves and their fellow man:
Examples of Impaired Ethical & Impulse Controls & Results
Note the above aphasia data. Then compare with the symptoms of Ronald Reagan, who by 2004, with Alzheimer's, no longer recalled he ever was President!
Note Reagan's in-office memory loss symptoms, then misdiagnosed (by laymen), as "a blend of ignorance, amnesia, and dissembling."—Mark Green, To Err is Reagan: Lies and Deceptions from the President (Foundation for National Progress, 1987), p 3, entitled, "Amiable Dunce or Chronic Liar?"
See also Mark Green and Gail MacColl, There He Goes Again: Ronald Reagan's Reign of Errors (1983); and Mark Green and Gail MacColl, Ronald Reagan's Reign of Error, II: The Instant Nostalgia Edition (Pantheon Books, 1987).
Note also Reagan's acalculia (inability to comprehend simple arithmetic). George Bush (1989-1993) called Reagan's acalculia, "voodoo economics" (increase spending, cut income, balance budget)! As a layman, Bush could detect something wrong with Reagan, but called it "voodoo" as unaware of the applicability of the medical term "acalculia."

Dr. William M'Donald, in The Lancet (Issue #1748) 231 (28 Feb 1857), said, "no smoker can think steadily or continuously on any subject. . . . He cannot follow out a train of ideas."

For background deaths, tragedies, and adverse events in the life of the family of George Bush (President, Jan 1989 - Jan 1993), normally linked to tobacco, see Kitty Kelley, The Family: The Real Story of the Bush Dynasty (New York: Doubleday, 2004). This data is "a train of ideas" to "follow out."

George Bush's mother Barbara was a smoker, her "hair turned white, she ground her teeth at night, and she smoked two packs of cigarettes a day," (pp 93, 102, 137, 191)
mother Barbara had two miscarriages (pp 102 and 137)
In 1976, Bush's "wife, Barbara, was dealing with a serious depression that more than once led her to the brink of suicide. His nephew Prescott S. Bush III was fighting schizophrenia; his uncle James Smith Bush, who had embezzled funds and fled the country, was dying in the Philippines; and George's son George W. Bush, who by his own admission was 'drinking and carousing and fumbling around,' was arrested that summer for driving under the influence [of alcohol]" (p 350)
"Both [George and Barbara Bush] had been exposed to the ravages of alcoholism . . . each had an alcholic uncle named Jim whose marital breakups caused their families no end of grief and consternation. Even Barbara's most illustrious relative, her fourth cousin four times removed, Franklin Pierce, the fourteenth President of the United States (1853-57), was an alcoholic. The insidious disease . . . had already wrapped its tenacles around the roots of both family trees" (p 69)
George W. Bush admits "youthful mistakes," his "sister-in-law Sharon Bush alleged that [he] had snorted cocaine 'not once . . . but many times'" (p 266)
George W. Bush's hazing of fellow students included to "brand' its [fraternity] pledges. 'It's only a cigarette burn,' George W. said. 'There's no scarring mark physically or mentally'" (p 237)
His brother "Eleven-year-old Neil had been disagnosed with dyslexia in the second grade, and Barbara knew he needed special education" (p 230)
Wife Laura says that at Southern Methodist University, "people smoked cigarettes—and I did" (p 357)
Grandfather Preston Bush "was battling the ravages of pipe smoking and binge drinking, [and was] plagued with a racking cough that . . . was diagnosed as lung cancer" (p 290)
young sister Robin developed leukemia and died (pp 129, 135).

See also Steven Rosenfeld and Bob Fitrakis, "The GOP's Cyber Election Hit Squad" (The Free Press, Columbus, Ohio, Monday, 23 April 2007), who ask "Did the most powerful Republicans in America have the computer capacity, software skills and electronic infrastructure in place on Election Night 2004 to tamper with the Ohio results to ensure George W. Bush's re-election? The answer appears to be yes."

This site is not advocating anyone for President. This site is providing hiring background data.

Let's do a contrast, Gov. Bush vs three-term Michigan Governor John Engler (1991-2002). What was Engler's record? What type of staff does he hire? The way to find out about an applicant, is read what he or staff have written, for example:

In making your hiring decision, think of looking for something "positive," not just avoiding the "negative." George Bush, Jr., is not a recognized leader against drug abuse, and especially not against the gateway drug!! In view of the bad example we have seen above, the effort to hire a drunk Senator for Secretary of Defense, how could he be?
It is a common stunt in the government to put supposedly 'rehabilitated' people in charge of anti-alcoholism, anti-drug programs. Notice, you will see that they invariably hold back, fight with one arm tied behind them, pull their punches. They don't say the facts about the problem you have seen alluded to here. Putting ex-offenders in charge is conscious premeditated sabotage of the program. When Pres. Bush, Sr., put twenty (20) year druggie William Bennett in as drug czar, that was sabotage. (Bennett was a 20 year smoker).
Notice that those who have a record as smokers, show their permanent residual brain damage effect, a severe inability to comprehend the fact that such residual effect even exists. Hence, they tend to minimize, refuse to acknowledge, the role of the gateway drug in alcoholism and drug abuse. They flatly REFUSE TO mention it, though long known in medical research. Tragically, Edison was right in 1914. The brain of a smoker never recovers. Ever, not even after many years or decades. Verify this constant disregard by smokers. Hiring them = sabotage of the program.
The same type residual effects relate to alcoholism. This fact, the permanent nature of the brain impact, has long been known. See, for example, the narrative at page 108 of the 1868 book, Smoking and Drinking, by James Parton.
The 20 year cigarette fiend (a term from years ago) William Bennett sabotaged the war on drugs, by refusing to cite the tobacco role in drug abuse. George Bush, Sr. and Jr. both pro-tobacco, intend on continuing the same sabotage for years to come.
Remember, in response to data on this subject known a century ago, and still known by doctors and hiring professionals, as succinctly summarized by Edison in 1914, Michigan banned manufacture and sale of cigarettes, BY LAW. Cigarettes' effect, leading to self-medicating with alcohol and drugs, is too severe on the body and brain, to be acceptable. It is a "negative," not a "positive."
In the early 19th century, an official was impeached and removed for alcoholism noted after attaining office!! For example, see the case of the Impeachment of Judge John Pickering. His court staff and colleagues deemed him insane. Standards have certainly fallen!! Now it is deemed a joke! no bar to even beginning holding office!!
The Pickering Impeachment for alcoholism, insanity, and unlawful rulings is reported in The History of the Supreme Court of the United States: The Oliver Wendell Holmes Devise, Vol. 2, Foundations of Power, John Marshall, 1801-1815, by George Lee Haskins; General Editor Paul A. Freund (New York: Macmillan Publishing Co, Inc., 1981), pp 211-215 and 234-238. The constitutional clause on holding office during "good behavior" was held to preclude alcoholism.
---
See also
the World Health Organization data, "Wide research needed to solve the problems of mental illness," World Mental Health, Vol 12, pages 138-141 (WHO Press Release, October 1960) ("people with psychopathic make-up often become leaders"); and
James C. Coleman, Ph.D., Abnormal Psychology and Modern Life, 5th ed (Glenview, IL: Scott, Foresman & Co, 1976), p 10 (on the long-verified prevalence of psychopaths as high officials; "individuals with psychopathic personality makeup, who tend to exploit power for selfish purposes and have little concern for ethical values or social progress, often become leaders").
---
"The psychopath in a position of supreme power is almost a common-place."—Robert Payne, The Life and Death of Adolf Hitler (New York: Praeger Pub, 1975), p xi.
---
Note that smoking involves three adverse mental aspects, addiction, mental disorder, and brain damage, due to the toxic chemicals being ingested.
---
Note that in halting the Florida vote count, in Bush v Gore (2000), awarding the election to the candidate whose father had appointed some of the judges, the smokers (who should never have been appointed, or impeached under the Pickering precedent, had they been), voted en masse for halting the vote count, the nonsmokers splitting 4-2 against the halt.
---
The Year 2000 'winner' had a similar coalition as did another famous appointee, in 1933, bringing him to power: farmers, non-unionized lower middle class, poverty-stigmatizing middle class, misguided idealists, and 'religious' types, Protestant and Catholic. Source: John Toland, Adolf Hitler (Garden City, NY: Doubleday & Co, 1976), Vol I, pp 253 and 255.
---
Note that U.S. 'religious' types have a long and wicked record.
---
Contrast Bush's education level even as a adult, with that of the far higher level of, for example, Queen Elizabeth I as a child.
Recommended For Reading
If You Have Not Already Done So

Related Web Sites
Ron Paul: Giuliani 'Not Qualified' for President (24 May 2007) (offers a reading list of background books with respect to causes of 9-11, e.g., "Dying to Win, which argues that suicide bombers only mobilize against an occupying force; Blowback, which examines the unintended consequences of U.S. foreign policy; and the 9/11 Commission Report, which says that Al Qaeda leader Osama bin Laden was angered by the presence of U.S. troops in Saudi Arabia. Another book on the list was Imperial Hubris, whose author appeared at the press conference to offer support for Paul. 'Foreign policy is about protecting America,' said author Michael Scheuer, who used to head the CIA's bin Laden unit. "Our foreign policy is doing the opposite.'")
You would realize that a candidate who says, 'I'm for smoking, but against lung cancer,' is lying. Or, 'I'm for smoking, but against heart disease,' that's a lie too. But the same is also the case with a candidate who says, 'I'm for smoking, but against abortion—alcoholism—divorce—drug abuse—crime, or any other cigarette-linked matter.' The person is lying.
In Texas, this damaged goods is fighting FOR tobacco. He is setting the cause in motion that leads to the above effects down the road. He is, bottom line, causing some of the very problems he professes to oppose!
Union General Philip H. Sheridan had seen the Southern pro-death mentality, "over the killing of many freedmen in the settlements, nothing is done." Asked what he thought of Texas, he said scathingly commenting on their morals and mentality, "If I owned hell and Texas, I would rent Texas out and live in hell." See Phil Sheridan and His Army (Lincoln: Univ of Nebraska Press, 1985; and Norman: Univ of Oklahoma Press, 1999), by Univ. of New Mexico History Prof. Paul Andrew Hutton.
Texan George W. Bush is a descendant of slavers.
Notice media writers and commentators. Those who have a record as smokers, show their permanent residual brain damage effect, a severe inability to comprehend the fact that such residual effect even exists. Hence, they tend to minimize, even joke about, the seriousness of the subject. Tragically, Edison was right in 1914. The brain of a smoker never recovers. Ever, not even after many years or decades. Watch. Read, the media. Verify this constant disregard by smokers. And the corrosive effect on others, so nonsmoker writers and analysts hesitate to say or write to the contrary. Never forget the tobacco taboo, the widespread media censorship of tobacco-related subjects.
See also our site on a person who, when he was chosen governmental leader in January 1933, could say that he hadn't used drugs for 14 years, not since 1919 (lying, he actually hadn't quit then!). Thanks to media disinformation, the people there too were unaware of the permanent residual effects of drug use, tobacco use, the No. 1 most dangerous drug, evident even after 14 years!! To see the site on that president (1935-1945), click here. To see the tobacco-taboo site, click here.
Bush has the potential to turn back the clock on virtually every gain that has been made in stopping the tobacco holocaust during the last decade, not to mention cripple the anti-holocaust movement well into the next century. And he is anti-worker too: opposes overtime pay after 40 hours, says workers are paid too much!
A neighbor of mine worked in a factory, each worker made $18 an hour; the manager, making $11,000,000 a year, called the workers together, said, 'I'm closing the factory, moving it to a different location to pay $6-7 an hour. Reason: you $18 an hour types make too much money! Get out! Factory closed here.' Do we need officials, a President, with this type attitude?
Remember, think like a human resources personnel hiring professional. Don't hire those with negatives, look for the positives. Remember, we are in a country with 200 million+ people, and can select the best.
---
Readers may wish to view these "Bushism" (some evidencing aphasia symptoms).
For information on U.S. election-stealing in the South, click here. For specifics on how the 2000 Election was stolen, click here. To help prevent this, click here for www.redefeatbush.com.
If You Haven't Already Done So, Please Read:
These effects are what George Bush, Jr., intends for you and your children.
For Further Reading

Ted Sampley, "George Bush Parachutes Again to Exorcise Demons of Past Betrayal," U.S. Veteran Dispatch (March/April/May 1997)
---
Robert Dreyfuss, "George W. Bush: Calling for Philip Morris," The Nation (8 Nov 1999)
---
Intelligence, section entitled, "7/12/01 - Claims"
---
Toby Eglund, "United States: The Tobacco Presidency" (19 March 2001)
---
"My name is George, and I'm an alcoholic," by Cary Tennis, Salon (26 July 2001)
---
"This is no Pearl Harbor," by Robert Novak (13 September 2001) ("Security experts and airline officials agree privately that the simultaneous hijacking of four jetliners was an 'inside job,' probably indicating complicity beyond malfeasance." See also
"At cabinet meetings, [former Treasury Secretary Paul H. O'Neill, M.P.A.] says [George Bush] was "like a blind man in a roomful of deaf people. There is no discernible connection," forcing top officials to act "on little more than hunches about what the president might think."
"This is what O'Neill says happened at his first hour-long, one-on-one meeting with Mr. Bush: "I went in with a long list of things to talk about, and I thought to engage on and as the book says, I was surprised that it turned out me talking, and the president just listening … As I recall, it was mostly a monologue."
"He also says that President Bush was disengaged, at least on domestic issues, and that disturbed him."--CBS 60 Minutes Interview With Ex-Treasury Secretary Paul O'Neill (11 Jan 2004).
---
Such symptoms of disconnectedness from reality are typical in "Dry Drunk Syndrome" (see above-cited links) and early Alzheimers. Recall the in-office symptoms of Ronald Reagan, now known to have a full-blown case of Alzheimers.
---
These are additional examples of "how disease . . . has frequently changed the course of civilization." See the concept cited by Frederick F. Cartwright (medical historian) and Michael D. Biddiss (history professor, Cambridge), Disease and History (New York: Dorset Press, 1972).
---
See also data by Jonathan R. T. Davidson, MD; Kathryn M. Connor, MD; and Marvin Swartz, MD, "Mental Illness In U.S. Presidents Between 1776 and 1974: A Review of Biographical Sources," Journal of Nervous & Mental Disease 194 (#1): 47-51, January 2006.
---
As F. Scott Fitzgerald wrote of Tom and Daisy Buchanan, "They were careless people, Tom and Daisy - they smashed up things and creatures and then retreated back into their money or their vast carelessness, or whatever it was that kept them together, and let [left it to] other people [to] clean up the mess they had made."

The "Big Lie" technique is effective. The "Big Lie" (Bush-Cheney, et al., pretending Iraq was behind 9-11) is believed by millions of Americans! This is despite the fact that no Iraqis were involved, but Saudi Arabians! under Osama bin Laden leadership from Afghanistan. And like wars generally, the invasion of Iraq was economic, for oil. However, as politicians are loath to concede such motive, a "Big Lie" of some high-sounding motive is told the generally gullible public.
James Moore, Bush's War for Reelection (John Wiley & Sons, Inc., 2004), "goes inside the White House and the Pentagon to show how the [Iraq War] was a Bush goal before 9/11—and how 9/11 became the justification [pretext, and citing] the unprecedented efforts by the Bush administration to suppress and distort intelligence, amd withhold the truth from the American people." Moore cites "a Lieutenant Colonel from the Texas Air National Guard who claims to have witnessed 'embarrasssments' being removed from the Guard records of President Bush." Moore "exposes the fibs and half-truths, ranging from Bush's disappearing act during his stint in the Texas Air National Guard, to the doctored intelligence reports that the Bush Administration used to justify [as a pretext for] invading Iraq."
See also the book by Elizabeth de la Vega (former federal prosecutor), United States v. George W. Bush et al. (Seven Stories Press, 1 Dec 2006) which "argues a case before a hypothetical federal grand jury with the intent of indicting Bush, Cheney, Rumsfeld, Rice, and Powell for fraud in their selling of the Iraq war . . . Even aside from the legal details, the book is useful for its clear-headed, succinct detailing of the propaganda effort." See also background from her interview, and sample 'testimony.'
For More Information on The March 2003 War Against Iraq
For Readers Wanting a Viewpoint Perspective

http://abcnews.go.com/ or http://www.cnn.com/ News often with Administration viewpoint.
---
Israel-based site for the Israeli viewpoint on events.
---
Fairly typical European news site, with some anti-American sentiment.
---
A Russian GRU source which seems accurate and reliable. Uses Russian reconnaisance satellite imaging extensively. Written and translated daily. Click on "Next Report" until you reach the most recent. Usually updated in the evening, US time.
---
English translation of the famous Middle East news organization's internet site, apparently paralleling European and Russian reporting.
---
English translation of a Muslim site.
---
Nonstandard perspectives.
---
InformationClearinghouse
---
An Indonesian Islamic View
---
Manichaeism (Stuggle of Good vs Evil)
---
Alternative 9-11 Analyses
---
"Those who refuse to examine the [tobacco] evidence are, unquestionably, enemies of the human race—consequently enemies of God," says Dr. Charles G. Pease, M.D., Correspondence on Smoking (New York: Restoration Pub. Co., 1929), p 16.
A Southerner, a guy who won't condemn putting coumarin, for rat poison, in tobacco, is saying in effect, 'he won't oppose Confederate revenge directed against Americans.' Can we call that "aiding and abetting, accessory"?
"To include all that is designated as atheism, it is necessary to distinguish between theoretical atheism and practical atheism. Theoretical atheism, is the denial, in principle, that there is a god. . . . Practical atheism, on the contrary, is not limited to the intelligentsia, but represents the working [life-style] philosophy of large numbers of men [people]. Practical atheism is the denial, in practice [life-style], that there is a god [with laws]. For such a philosophy, the question of the existence of God [His laws] is irrelevant to the meaning of life and the decisions of human existence," says "Atheism," Encyclopedia Britannica, Vol. 2 (1963), p 667.
"By their fruits ye know them." Matthew 7:16. In view of George Bush's actual beliefs, as shown by his behavior, his life-style, his policies and practices, it is clear that George Bush is an atheist. His claims of of religiosity and faith-based belief are a sham invented for purposes of getting elected to office.
---
---
Copyright © 1999, 2007